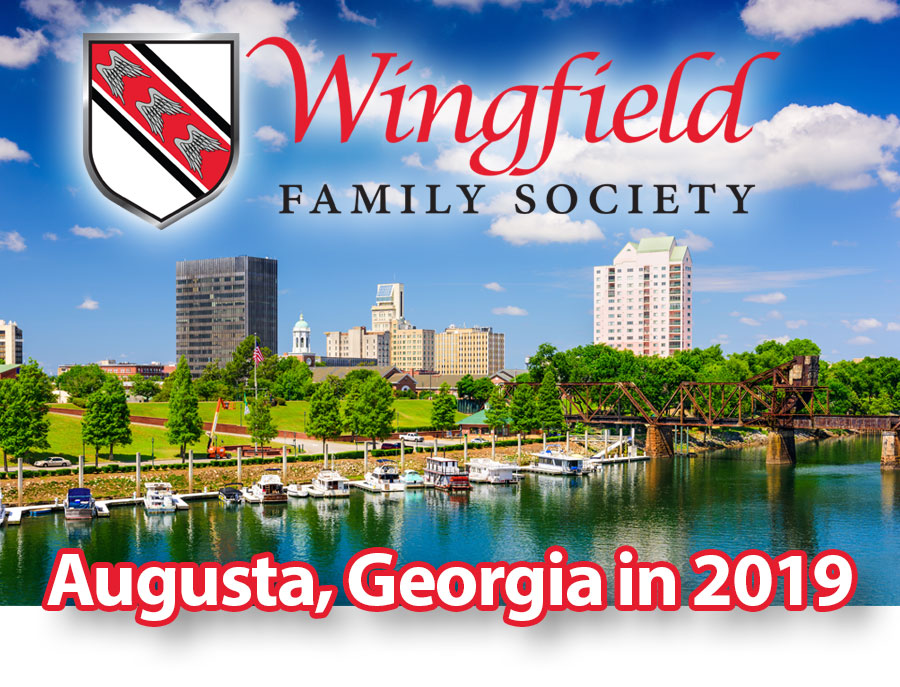 The 2019 Annual Wingfield Family Society Meeting will be held in Augusta, Georgia.  A weeklong trip to Augusta, Georgia will be held in mid-September or early October.  We are still in the planning stages, but have several ideas that we are currently discussing.
One of the highlights of the 2019 Annual Meeting will be a one-day motor coach trip to Washington, Wilkes County, Georgia, where a branch of the Wingfield family of Hanover, Virginia migrated to in 1784.  During the full day trip to Washington members will have an opportunity to visit some of the Wingfield family historic sites.
2019 is also a WFS election year, as new President and Lord of the Manor, and a slate of new Directors will be nominated in 2019 and formally elected at the 2019 Annual Meeting.
The plan is to stay on or near the river walk in Augusta, Georgia for members' enjoyment.  We are only planning group outings for three days.  The other days, we will have small group activities planned or you can be on your own.
A detailed list of things to do in Augusta and nearby locations, Wingfield related and unrelated will be provided to those interested in attending next year's Annual Meeting.
If anyone has questions, comments or information, please do not hesitate to contact:
Jim Nowak
jnowk1014@aol.com
630-399-9769
Barb Cortino
bcortino1114@aol.com
224-622-4664
Further details concerning the 2019 Annual Meeting in Augusta, Georgia will be provided once logistics are finalized.
At the 2018 Annual Meeting, the Officers and Directors decided that the 2020 and 2021 Annual Meetings will be held in Williamsburg, Virginia and San Antonio, Texas, respectively.
Past Annual Meetings
(Click on links starting in 2000 to see photos from the meetings)
1987: Ashland, VA
1988: Richmond, VA & UK
1989: Scottsdale, AZ
1990: Atlanta, GA
1991: Fredericksburg, VA & UK & Ireland
1992: Reno, NV
1993: Williamsburg, VA
1994: Kissimmee, FL
1995: Tyson's Corner, VA & UK
1996: Scottsdale, AZ
1997: Richmond, VA
1998: San Antonio, TX
1999: Washington, DC & UK
2000: Toronto, Canada
2001: Denver, CO
2002: New Orleans, LA
2003: Salt Lake City, UT
2004: Savannah, GA
2005: Nashville, TN
2006: Phoenix, AZ
2007: Williamsburg, VA
2008: Atlanta, GA
2009: Tampa, FL
2010: Jamestown, VA
2011: San Antonio, TX
2012: Charlottesville, VA
2013: Nashville, TN
2014: Williamsburg, VA
2015: Chicago, IL
2016: New Orleans, LA
2017: Sterling, VA & UK
2018: Miami, FL (Carnival Cruise)