Sir Henry Wingfield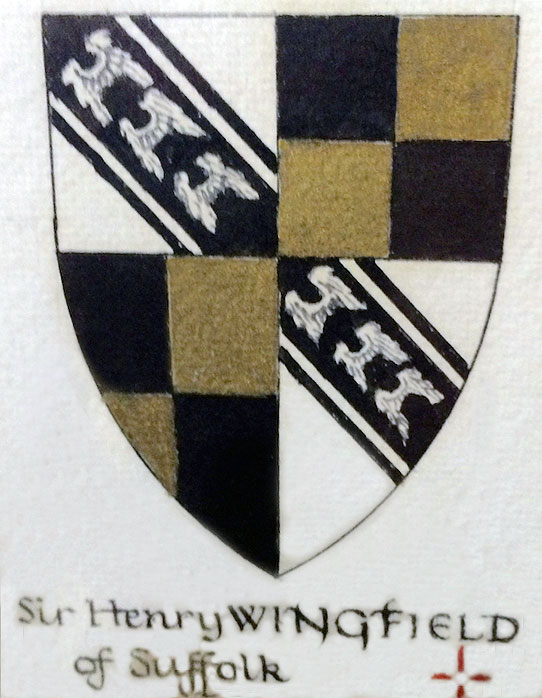 Sir Henry Wingfield was born at Letheringham, Suffolk circa 1440 as one of the youngest of 11 children of Sir Robert Wingfield and his wife Elizabeth Goushill.
Henry Wingfield fought for the House of York in the Wars of the Roses. Both Henry and his older brother Thomas Wingfield were knighted by King Edward IV at the Battle of Tewkesbury on May 4, 1471.
Sir Henry Wingfield adopted the Wingfield arms quartered with Boville as his personal coat of arms. He was later appointed Governor of Orford Castle, a position he held at the time of his death in 1494.
Sir Henry Wingfield died before 6 May 1494, and was buried at the Chancel of the Friars in Orford, Suffolk. Elizabeth Rokes Wingfield died about 1530 and was buried in St. Margaret's Church, Westhorpe, Suffolk. Sir Henry was first married to the widow Alice Seckford (nee Hart), and secondly to Elizabeth Rookes, daughter of Sir Thomas Rokes of Fawley, Buckinghamshire. The only known children of Henry Wingfield were sons Thomas and Robert Wingfield born to his 2nd wife Elizabeth Rokes. Son Thomas Wingfield became Captain of Deal Castle and died in 1555. Son Robert Wingfield married Margery Quarles and died at a very advanced age in 1575.